Description
Lifree Adult Absorbent Pant is easy to use by oneself. Just like underwear it can be easily pulled up and removed. These are light and comfortable and have a good fit preventing leakage. It helps you to stay active be outgoing with confidence.
Available sizes:
L (30-39 inch)
XL (35-49 inch)

POWERFUL ABSORBING CORE
These pant style diapers are manufactured with a soft and comfortable material that is highly absorbent in nature. These diapers have a 6 glass absorption capacity allowing the adults to continue doing their day-to-day activities without hindrance.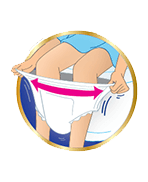 STRETCHABLE WAISTBAND

The high leg gathers of pant style diapers provide a comfortable side fitting which helps in preventing side leakage. Adults can stay active without worrying about wetting the garments.
SMOOTH LEG PASSAGE
Lifree pants have smooth leg passage which allows foot to pass easily without toe getting stuck while wearing the diaper.
Salient features of Lifree Adult Absorbent Pant:

Flexible and breathable waist band makes it easy to use.

Allows air to pass preventing rashes.

Soft and high leg passage allows the leg to pass down easily preventing side leakage.

Thin absorption sheet provides a good fit and prevents leakage.

Light in weight.

Skin friendly.